Duke freshman star Zion Williamson suffered a right knee injury in Wednesday's game between the No. 1 Blue Devils and No. 8 North Carolina. The injury occurred 36 seconds into the game as Williamson—the presumptive number one pick in the upcoming 2019 NBA Draft—dribbled the basketball as Tar Heels forward Luke Maye defended him. The 18-year-old forward then appeared to lose his footing and fell to the floor. In visible pain, he then grabbed his injured knee.
As Williamson was on the floor, it was apparent from the television broadcast that his left Nike sneaker had torn apart. The tear appeared to have occurred when Williamson planted his foot while dribbling. Former President Barack Obama, who attended the game and sat in the front row, was shown on camera mouthing "his shoe broke."
This meant three really bad things. First, a tremendously talented basketball player could have been seriously injured–Ouch!–which, as Sports Illustrated explains below, could mean potential liability for Nike. Double Ouch! Second, it gave one of Nike's competitors, Skechers, a wonderful marking opportunity at Nike's expense. Triple Ouch!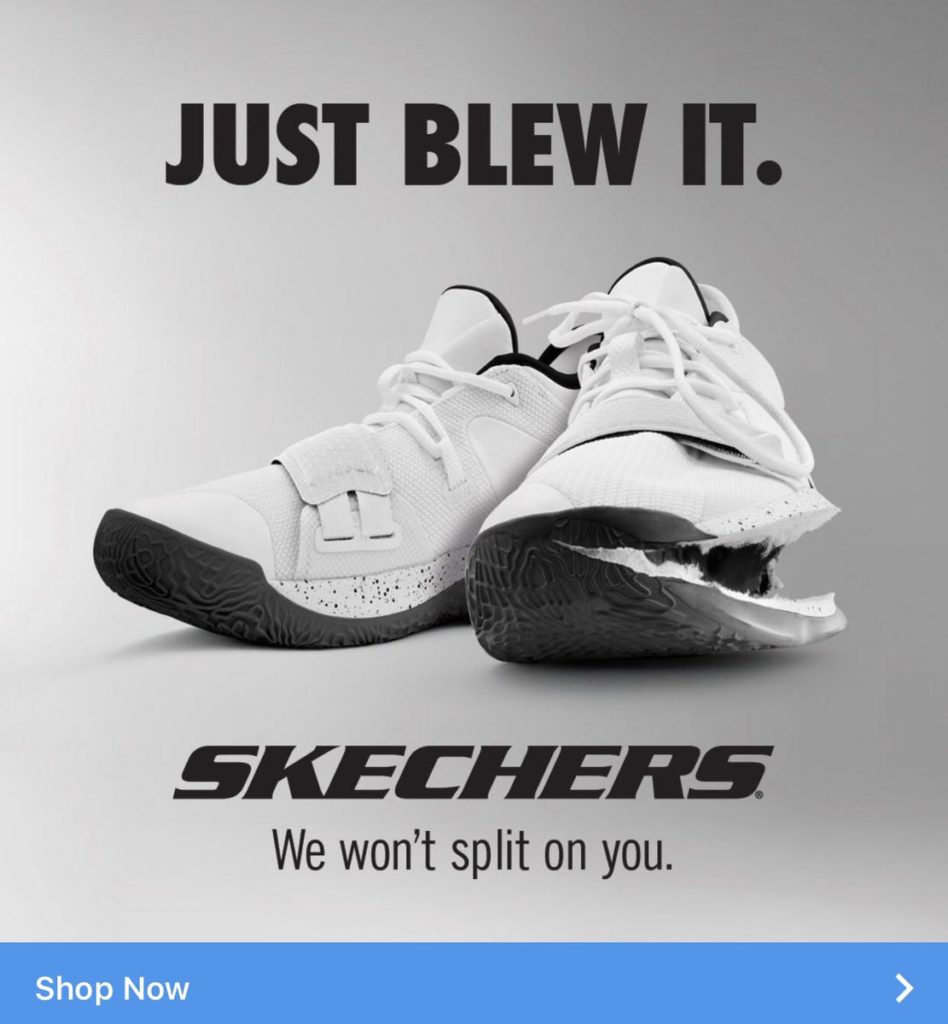 An injured Williamson returned to Duke's locker room and was ruled out for the remainder of the contest. After the game, which Duke lost 88-72, Duke coach Mike Krzyzewski described Williamson's injury as a "mild knee sprain." He also assured reporters that Williamsons' knee is stable. However, Krzyzewski offered no timetable on when Williamson is expected to return to action.
There are several potential legal implications of the injury and its relationship to a broken sneaker.
Williamson's injury is a painful reminder why the NBA and NBPA are expected to explore modifying Article X of the collective bargaining agreement. Article X instructs that for an American player to be draft eligible, he must be at least 19 years old and at least one NBA season must have elapsed since when he graduated from high school or, if he didn't graduate, when he would have graduated.
While the current CBA runs through the 2023-24 season (with a mutual opt-out clause after the 2022-23 season), Article X could be amended before then. More likely, it would be changed in a new CBA. The relevant change would be to allow players to "jump" from high school to the NBA. The NBA permitted amateur players to make that jump from 1976 to 2005. LeBron James, Kevin Garnett, Kobe Bryant, Tracy McGrady, Tyson Chandler and Al Jefferson are among those American players who skipped college altogether and excelled in the NBA.
If Williamson had suffered this same knee injury during an NBA game, he would have the security of guaranteed employment contract worth millions of dollars. Instead, as a college freshman, Williamson is an "amateur" whom Duke can only compensate up to the "grant-in-aid." This term refers to the collective reimbursement value of tuition, fees, room, board, required course related books and other miscellaneous expenses reflecting the full cost of attendance.
Also, under NCAA amateurism rules, Williamson is barred from signing an endorsement deal that reflects his considerable marketability. Tickets to Duke games have soared in prices at least in due to the chance to watch Williamson play in person. Upon turning pro, Williamson will almost certainly sign multi-million-dollar endorsement deals.
Williamson, who has dominated his collegiate competition, likely had the requisite skill and talent to enter the NBA out of high school and play meaningful minutes in that rookie NBA season. His injury will remind both the NBA and NBPA of that point.
Williamson's injury will also remind both himself and his family and advisors of the risk of playing in college. There is no doubt that part of Williamson will want to return to the court as soon as possible for the Blue Devils. This is particularly the case given that Duke has the number one men's basketball team in the country and possess an excellent chance to win the NCAA title in April. Another part of Williamson will probably urge him to leave Duke immediately, declare for the NBA draft and begin training for his NBA career. The related logic would be it is better to be safe than sorry.
To read the rest of this story, go to https://www.si.com/college-basketball/2019/02/21/zion-williamson-knee-injury-duke-unc-north-carolina-nike-sneakers-legal-impact